Instant messaging apps offer an ample scope for exploration from a digital marketing point of view. Despite their undisputed popularity among users and a usage that has skyrocketed in the wake of the COVID-19 quarantine, many brands are still looking for the right approach to address communication in this channel.
Instant messaging apps, a channel that reinvents itself with the crisis
Instant messaging apps form a very dynamic ecosystem that stands out because of the enormous volume of users that handle them and for the high rate of retention and use compared to other types of applications. According to The Messaging Apps Report by Business Insider, as of 2015, the monthly number of active users of the four most popular instant messaging apps had already surpassed the four main social networks.
Currently, on a global scale, the instant messaging application pool is occupied by WhatsApp (2,000 million monthly users), Facebook Messenger (1,300 million) and China's WeChat (1,165 million), according to data from Statista.
As has happened with the consumption of audiovisual content, according to Statista, the quarantine has given a new impulse to instant messaging apps and 45% of users have used them more to bridge the physical distance imposed by the lockdown. In response to this new demand, these apps have adapted to the new situation. For example, WhatsApp limited the mass dissemination of messages to appease the misinformation regarding COVID-19 and Facebook launched Messenger Rooms to encourage group video calls.
What opportunities do instant messaging apps offer brands?
It is possible to apply different strategies in the effective management of this channel:
1. Instant messaging apps as a customer service channel
Many brands enable customer service channels through these applications. Generally, users turn to brands for two reasons:
To ask quick questions about the product or service: delivery times, physical characteristics, information on service conditions or promotions among others.
To request something from the company, such as an exchange or refund, or to notify an incident.
Therefore, the main instant messaging apps have features that facilitate these interactions. An example of this is WhatsApp, where companies can create their own profile using the Whatsapp Business API, which also makes it possible to program bots by incorporating users' frequently asked questions to save time and provide a quick response.
In this sense, for many retailers, it is expected that the instant messaging apps increase their relevance during deconfinement, given that the decision to return to the physical stores will be more thoughtful than in the past and the user will seek to be informed in advance. In fact, in countries like Spain, the first stages of deconfinement require making an appointment to access the stores, a task in which these applications can make a difference.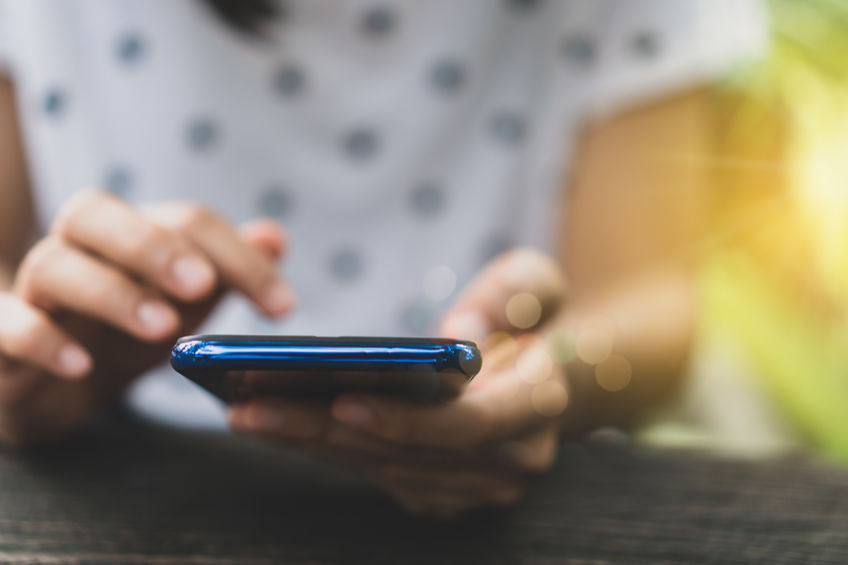 2. Breakthrough and evolving advertising formats
Advertising through instant messaging applications has a far-reaching journey on the Chinese application WeChat and it is becoming more and more established on the rest. According to a Facebook study, already 44% of US millennials feel comfortable receiving promotions and offers on their Facebook Messenger app.
In addition, these applications are constantly innovating in terms of the ad formats they offer, making an increasing number of creative options available to brands. Snapchat is a clear example of this: while in 2019 it successfully launched its Dynamic Ads, its revenue from Story Ads doubled in one year and, in the case of Commercials, it tripled.
3. Instant messaging in B2B marketing environments
Some B2C retailers have used these apps as tools for building loyalty and dynamizing online communities around the brand. This strategy can also be applied to B2B environments by creating private groups for professionals. In this sense, an international survey by Microsoft highlighted the outstanding preference for messaging within the work environment by millennial and Z generations, a fact that reinforces the role that this type of apps can have in B2B marketing.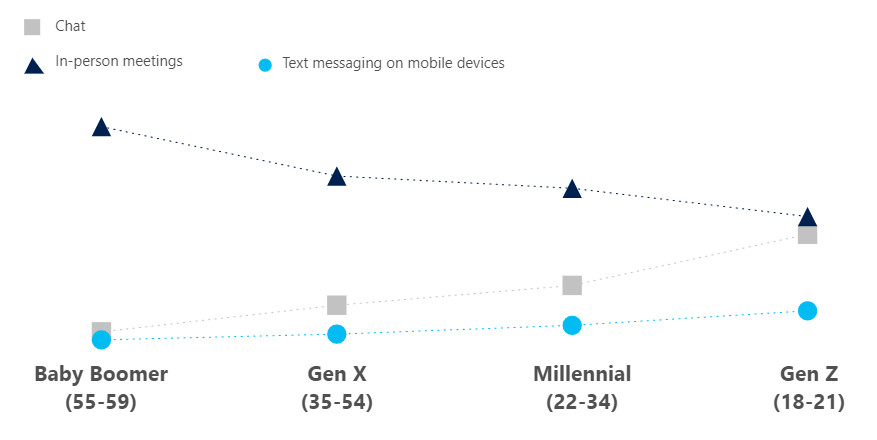 With traditional trade fairs on hold and close physical contact restricted for a while, B2B brands can rely on instant messaging applications to stay in their target audience's orbit and communicate their expertise in a direct and accessible way.
Instant messaging apps, keys to post-COVID-19 digital marketing
In businesses, instant messaging apps are often positioned in an area with blurred boundaries between digital marketing, sales and the customer service team. Regardless of the type of strategy chosen for its management, it is a channel that will emerge strengthened from the coronavirus crisis and it poses interesting communication possibilities that brands must consider in their digital marketing strategy.