The growing presence of Smart TVs in homes around the world has meant a true revolution in audiovisual consumption habits. While the impact of linear television keeps dropping, especially among younger audiences, the pervasiveness of devices that combine television and internet has done nothing but rise lately.
According to data collected by Kantar Media in their study TGI Global Quick View, more than 60% of internet surfers have user accounts to access streaming television content. Moreover, the sales of Smart TVs increases year after year across the globe, and predictions place new acquisitions over 220 million as of 2020. This data gives a good account of the possibilities presented by these new ways of consuming audiovisual content.  
In addition, the COVID-19 crisis scourging the planet has originated increasing consumption records for this type of content and for TV in general. Therefore, in the case of Spain, for example, not only the number of connected users has increased (compared to March 2019), but also the number of hours per user, which has risen to ten hours per day on weekends. What was the most viewed content? News programmes, as you might have guessed.  
Advanced TV: Concepts it includes and the possibilities it offers
The concept of Advanced TV is a true umbrella term that encompasses every service, platform or content that is not accessed through a live broadcast or cable television. On that account, within this term we include Connected TV, Programmatic TV, TV Everywhere and Video on Demand (VoD).
When we mention the first two concepts, Connected TV and Programmatic TV, we mean, on the one hand, the possibility to advertise through OTT television devices, and, on the other one, the option to insert our ads in a live, programmatic manner, no matter from which device the content is consumed.
To put it in practical terms: through Connected TV, a user in the United States watching content from the Spanish site ATRESplayer using their Apple TV device will see our ads. Meanwhile, though Programmatic TV, a user enjoying The Handmaid's Tale logged into their Hulu account with their tablet will also be impacted with our advertising.
The evolution of Connected TV
The increase in the use of streaming content has caused a significant change, not only in user habits, but also in advertising investments. Video on Demand platforms (VoD) have made substantial modifications to the way users receive audiovisual content.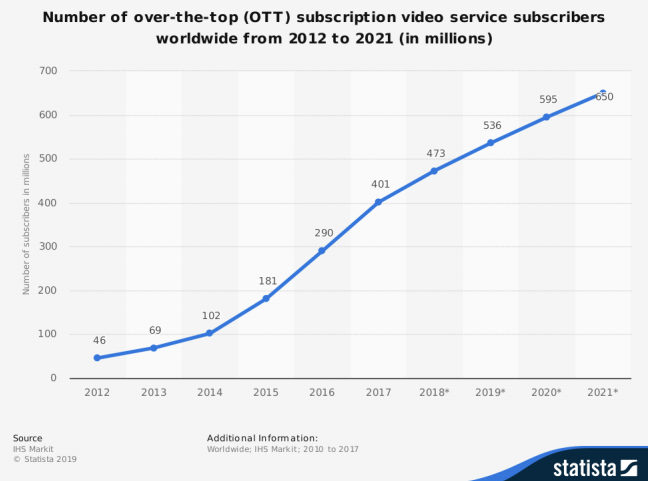 This growth is expected to continue during the next few years, as the forecast by IHS Markit shows regarding the progress in the number of subscriptions to VoD platforms, which will rise up to 650 million as of 2021
From the perspective of advertising investment, it is paramount to know which are the concepts included within Advanced TV before choosing the best option to reach our target and the goal set by the brand. This will allow us to design strategies that are more accurate, optimised and adapted to channels and audiences.

Patricia Lozano, Audio, Video & Connected TV Senior Digital Marketing Consultant at Labelium Group
According to the aforementioned study by Kantar Media, 83% of young people between the ages of 18 and 24 are subscribed to VoD platforms, while the decrease of their linear TV consumption appears to be unstoppable. This is a key point if we are to understand that the user profile has changed, and advertising models must adapt to this new reality in order not to be left behind.
The key to success in Connected TV is format variety
The total income of Connected TV, according to the forecasts by digital TV Research, will reach 87,000 million USD in 2024, a number that will be divided between the different digital TV models.  
SVOD systems (Subscription Video on Demand) will attract the most income in the sector. These models allow access to premium content in an extensive video catalogue available to subscribed users. For their part, AVOD systems (Advertising Video on Demand), free models containing adverts, will experience relevant growth until they become the second option with the highest income.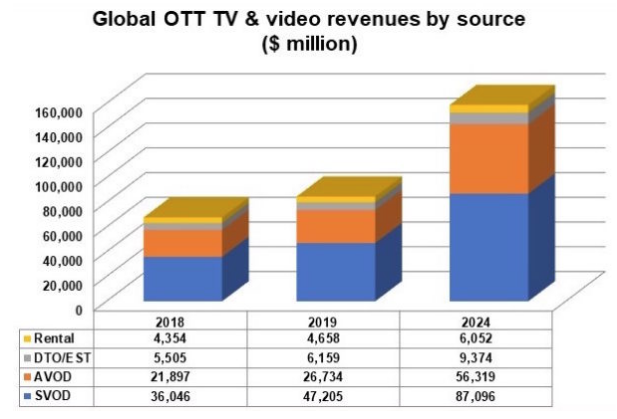 This information becomes truly useful when it comes to guiding the advertisers' investments in marketing. A thorough knowledge of the priority content offered in each platform, as well as the consumer habits of its users will be decisive in designing appropriate digital advertising strategies.
Advantages of programmatic advertising in Digital TV
The new VoD platforms open a door into the purchase of advertising space. A huge part of the investment advertisers were saving for traditional television has been transferred to these new media instead, because of the advantages they offer.
The availability of data about the behaviour of users in the different VoD platforms opens a new stage where the design of programmatic advertising strategies will allow marketers to reach their target audience in an optimised way.


Patricia Lozano, Audio, Video & Connected TV Senior Digital Marketing Consultant at Labelium Group
The password-protected access to content associated with a personal profile, enables a deeper understanding of the audience in each space, a fact that favours a positive recognition of the brands.  
Moreover, the data provided by Digital TV platforms enable a global understanding of the users' online behaviours, by linking it to the viewing patterns of the different content available.  
All these are key aspects in order to become as relevant as possible in this very sensitive moment we are living today internationally. We should be able to maximise investment, reaching the users we are interested in when they watch the right content. It is true that live television will not disappear, due to important sporting events available on streaming and real-time news programmes; however, the rise of OTT platforms should not be underestimated, since they have been able to change the audiovisual industry at its core.