In 2019, Facebook announced the arrival of Instagram Checkout, a feature that had been created to facilitate and nurture the experience of shopping on social media platforms. To capitalize on the fast growth they have been having on Instagram, the best move for them was to transform it into a transactional platform in order to empower advertisers and brands to provide a full shopping experience within a frictionless ecosystem.
Following the objective of establishing themselves as the clear mobile storefront for businesses, last week, they have introduced Facebook Shops, an easy way for brands to create an online store on both Facebook and Instagram for businesses selling physical goods. Complementing Shopping Tags, the new explore section on Instagram and Checkout, Facebook is more than ever pursuing its objective of creating its own marketplace and will soon offer similar services to big e-commerce players like Amazon or Wechat with it's shopping platform: WeShop. 2 years after them, Facebook is following the same path.
Facebook Shop, inspiring people to shop and make buying and selling online easier
Allowing brands to feature their products in a smooth and fashionable experience, the revamped version of Facebook Shops gives a fresh overview of the different categories of products to be discovered within a brand's store. Accessible through brand pages but also Instagram Explore, it will also synergize well with this new placement recently added in 2019.
Efficient for storytelling and discovery, the long term goal is to provide users the ability to checkout directly without leaving the platform. For now, redirecting to your website is the only option available for advertisers who are outside of the USA or do not have access to the checkout closed-beta.
Until then, you can easily connect it to your current Facebook catalog or integrate it through an eCommerce platform (Shopify, BigCommerce, WooCommerce, ChannelAdvisor, CedCommerce, Cafe24, Tienda Nube or Feedonomics). The eligibility will be rolling out progressively over the summer and brands will have the possibility to customize their brand shop via commerce manager.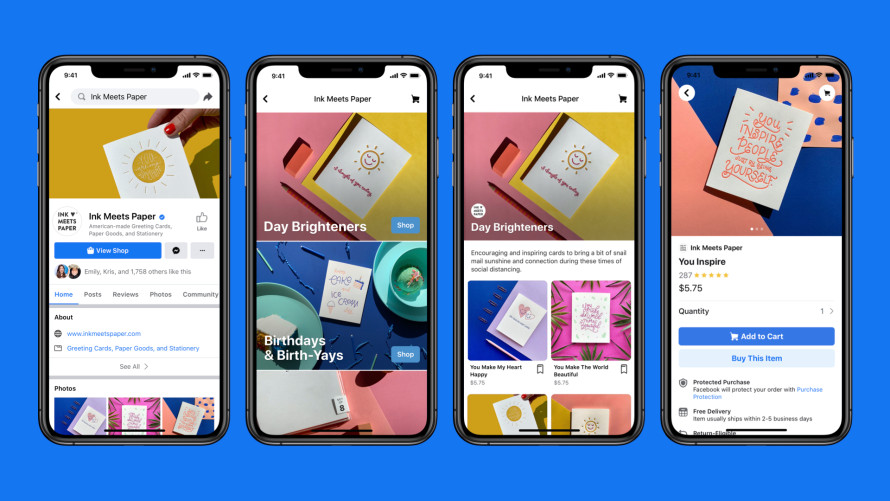 Empowering small and medium-sized businesses
This revamped version of Facebook Shops is being pushed forward at the right time to support small and medium-sized businesses that have seen their stores closed for a long period of time.
With the changes in behaviors linked to COVID-19 (COVID-19 will permanently change consumer behavior), businesses and users have had to adapt. Therefore, this tool is an exciting way to capitalize on the increase in time spent on social media (eMarketer) and the change in consumer behaviors in favor of online shopping (Forbes).
Pursuing the journey toward a full social shopping experience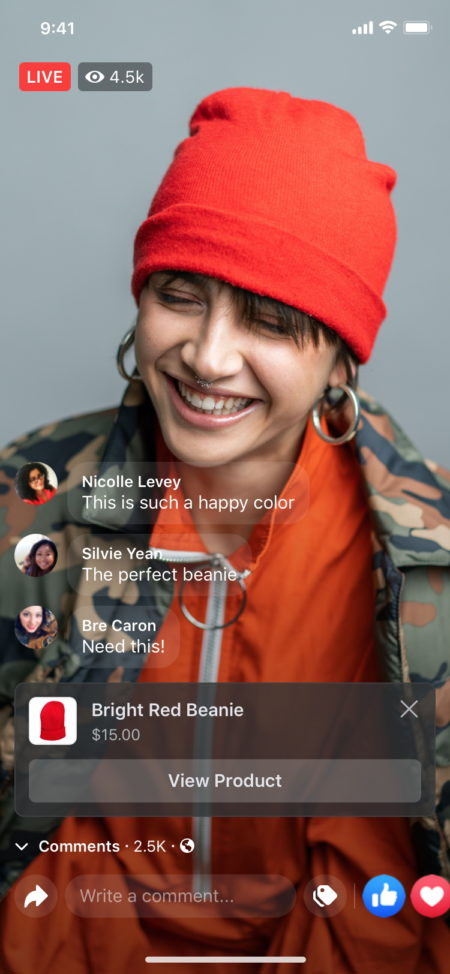 To complement its different products on social shopping, Facebook will also be working on the possibility of linking a loyalty program to give brands and users the opportunity to convert via this new experience. Ultimately, it will allow people to discover, get support, make purchases, and track their orders within WhatsApp, Messenger, or Instagram Direct, and with the recent launch of Facebook pay to facilitate on-platform payments, it should make the transaction process even easier. On the other hand, AI provided by Facebook's augmented reality tech could be the solution to bringing this online experience as close as possible to reality.
It is another way for brands to get closer to their customers while offering a unique and personalized experience. It also highlights the desire of the social giant to focus on its core four applications, which has been emphasized when they decided to cut a few of their inventory types on the audience network in 2020.
Capitalizing on Instagram & Facebook Lives
With the steady growth in usage coming from Facebook and Instagram lives in the past few months (Business Insider), they've also announced a new product allowing users to tag specific products from their feed while presenting them during a live.
Adding this option will empower brands as well as influencers to showcase quickly and easily the different products they are promoting in their lives.
We're definitely looking forward to seeing how it will be used innovatively within the different industries for product launches, live fashion shows, and much more…
Our Take on it
Following the same path as Google Shopping Free Product Listing recently introduced, it is another big step made by a giant to enhance the value provided by one of its organic products.
Reinforcing its position as being a major driver for e-commerce players, we believe that these updates will definitely pave the way for Facebook to play a more prominent role in being a direct sales driver and reducing its perception of being an assistance channel.
It may be organic for now, but based on its success, as paid ads remain their primary revenue sources (Facebook Reports First Quarter 2020 Results), it will most likely end up being synced with their current paid ads offering. This will allow them to remain competitive as we're approaching the era of zero-data: an era in which data outside of platforms will be hard to leverage over time based on the recent modifications in cookie lifetime and data policies within regulations such as the GDPR.
What's in it for you…
… you may ask? Being part of these changes will be crucial for brands to follow consumer trends if the response is good and positive. While Facebook will be breaking its dependency on plural attributions, multi-device conversions, and friction, it should claim over time a stronger weight of conversion and traffic, which may even result in the long term of having businesses that are Facebook and Instagram native.
However, until the promise of checkout is fulfilled across the world, It will take some time for reluctant users to start using it and they may still convert directly on the brand's websites. Brands might not be ready to give up a part of their revenue as Facebook will charge what seems to be a fee of 5% per transaction, with a minimum fee of $0.40 for now. But once it will become trendy and synced with paid ads, sky is going to be the limit and we do not doubt that Facebook will gain ground with a strong differentiator similar to what Amazon Prime is to Amazon. Chances are that it will be via a global loyalty program or something linked to their cryptocurrency.
We're looking forward to sharing more news on this topic in the near future which looks quite promising for Facebook and its platforms.
What do you need to start?
If you are considering setting up a Facebook Shop, you will need to meet the following requirements:
Sell physical items
Agree with Facebook Merchant Terms
A Facebook or Instagram Page
A product catalog
A Facebook commerce manager (for personalization or checkout features)
If you need assistance with how to perform some specific operation on your Shop page, create or optimize your product catalog feel free to contact us at [email protected].
We're looking forward to sharing more news on this topic in the near future which looks quite promising for Facebook and its platforms.
Co-Written by Sara Patry and Dave Pinette