5G technology is synonymous with seamless connectivity between devices, mass data management and high-speed mobile broadband. Two of the most affected formats by the new 5G network capacity are online video and audio.
The 5G network implementation will translate into more time for audiovisual consumption streaming from anywhere. Ericsson's 5G Consumer potential report points out that users will spend about three hours more per week than usual (it goes from around 6.5 hours to 9). This higher mobile bandwidth will also increase the audience willing to join live videos on YouTube.
5G will reinforce the role of video in today's digital marketing strategies. Improved smartphone capacities, increased reach of Connected TV and network speed will all enhance the campaigns' reach and their effectiveness as a tool to generate engagement and perhaps conversions. The limits will disappear and the advertising that monopolizes the entire bandwidth will be a thing of the past.

Lucía González, Digital Audio-Video-Connected TV Global Director at Labelium Group
Currently, three out of four users consume online videos from fixed networks at home based on the latest Youtube data provided by Google. With the implementation of 5G technology, Ericsson estimates that video playback over mobile networks will increase gradually, as shown in the graph below: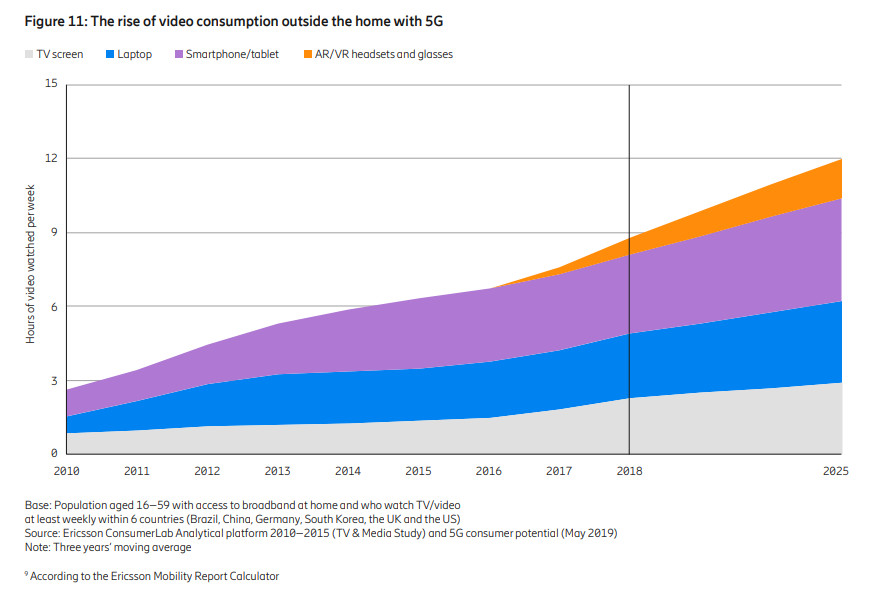 On the other hand, online audiovisual content is steadily gaining ground on traditional media, especially among younger users. In fact, according to the American entertainment company Tubefilter, today more than 250 million hours of video are played online from Internet-connected televisions. Connected TV has become a powerful advertising platform with the added advantage of being able to decide which audience to reach and how often to impact them. This trend will be reinforced with the arrival of 5G technology, which improves synchronization between devices ensuring a stable and seamless connection.
In addition, recording and playback on 8K improved video quality is one of the major trends cited at the Consumer Electronics Show (CES) in Las Vegas, the world's largest consumer technology trade show. Each image with an 8K resolution displays the astonishing figure of 33 million pixels on television, compared to 8 million in standard 4K.
5G will force advertisers to create higher quality content, which will turn into an innovation challenge. Customers are more demanding and, as a consequence, advertisers will have to maintain their level of competitiveness, as well as incorporate new products and services into their digital strategies.

Lucía González, Digital Audio-Video-Connected TV Global Director at Labelium Group
In this context, 5G technology becomes indispensable for devices to be capable of processing this volume of information. In fact, these changes also force a rearrangement of the frequencies allocated to digital terrestrial television. This process, known as the Second Digital Dividend, will free up the 700 hertz bandwidth to allow the ultimate implementation of 5G networks.
Regarding the radio, the growth of podcasting is being noticed in countries like Spain, which already occupies second place worldwide in online audio consumption, according to the latest Digital News Report from the Reuters Institute. The smartphone is the main vehicle for listening to these on-demand audios with applications such as iVoox or Spotify.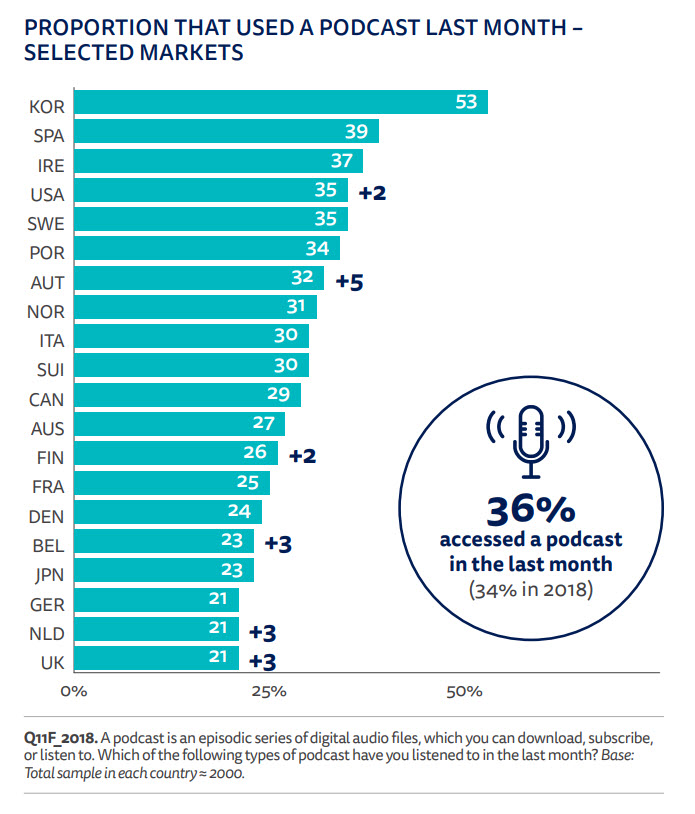 5G, a boost for digital audiovisual formats
In the short term, the minimal back-up provided by the 5G network will boost smartphone use as it will avoid inconvenient waits. However, in the medium to long term, 5G technology opens up a huge range of possibilities: quality, podcasting, interactive video, augmented reality and, of course, a unique starting point for developing applications that have not yet been invented.
All these applications will have a significant impact on mobile data consumption. In this regard, Ericsson estimates that mobile data spending will increase tenfold over the next four years with an average of 200 GB per month. This has not gone unnoticed by telecom operators, who are already paving the way by offering unlimited data rates.
The advantages that this new technology will bring in different areas and, in particular, to the Internet of Things (IoT) are infinite, therefore, every company should already be considering what impact 5G will have on their business.

Lucía González, Digital Audio-Video-Connected TV Global Director at Labelium Group
More than a revolution that will change our lives overnight, 5G technology will establish the online consumption patterns that already exist today. It will extend the reach of video marketing with the rise of Connected TV and high-speed mobile networks, but also improve the user experience on websites with HD images and facilitate access to online radio, the vast world of podcasting and music on demand.