Advertising fraud amidst programmatic sales has become one of the main reasons for concern among brands that develop digital strategies. According to estimates from the WFA (World Federation of Advertisers), ad fraud will result in global losses worth over 50 billion dollars USD by 2025. In order to tackle this issue, look after marketers' online reputation, and ensure efficiency in Audio, Video, DOOH, Display and Connected TV campaigns, Labelium Play has teamed up with DoubleVerify, the leading solution in the market for ad verification and brand safety.
What is DoubleVerify and how does it work?
DoubleVerify technology can be integrated into the entire Google ecosystem, into the main social media platforms, and into most DSP (Demand Side Platforms). This ensures online advertising is shown in the proper context to real, physical users in the intended geographical area, and –in the case of videos– that they are viewable during playback.
DoubleVerify works on two levels, pre-bid and post-bid, across different devices and formats (desktop, mobile, app and CTV), keeping watch over four aspects:
Brand safety and context, that is, that the ad is served alongside content that is contextually relevant and aligned with their brand values and sensitivities.
Viewability, in the sense of an opportunity to carry out an effective viewing of the message. According to the official definition provided by the Interactive Advertising Bureau (IAB) and the Media Rating Council (MRC), this chance comes along when at least 50% of an ad is in view for a minimum of one second for display, or two seconds in video ads. 
Fraud and invalid traffic, originated from bots, IP spoofing and other illegal activities. 
Location, checking if advertising appears to users who are in the chosen area.
Quality verification applied to audiovisual advertising in social media
Social media networks pose one of the greatest challenges faced by brand safety within audiovisual advertising. Their dynamic features make it difficult to control the context where the ads will be placed, given that neighboring publications are constantly being updated according to each platform's algorithm.
DoubleVerify is the only partner that specializes in ad verification, supporting more than 40 languages on Facebook and YouTube. DoubleVerify works with audiovisual ad formats, such as video 360 or in-stream on Facebook; and TrueView in-stream or bumpers on YouTube. It offers a list of more than 50 categories to classify content, allowing for the development of exclusion lists of content that might damage the brand's reputation. This way, brand safety is secure, since the ad is prevented from being played in channels or next to pieces covering shocking or controversial topics (violence, pornography, drug use, terrorism, accidents, natural disasters, etc.). This would improve brand suitability, given the possibility of excluding categories that could generate an inappropriate placement for the advertised product, including business, politics, automotive or children's broadcasts.
Moreover, DoubleVerify monitors viewability, adopting the IAB and MRC standards, thus standardizing the metrics used to measure viewability across different platforms. This makes it possible to compare, directly, the different results obtained from Facebook, Instagram, YouTube, Twitter, Snapchat, Pinterest and TikTok, helping to determine which channels are working better, and to make more accurate optimization decisions in terms of audiovisual advertising in social media networks.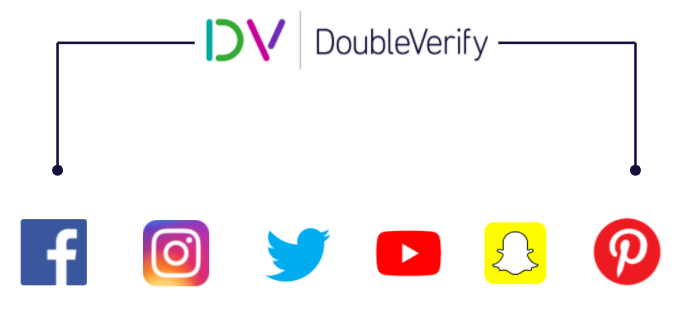 Ad Verification and Ad Viewability in Video and Connected TV
In the framework of Video and Connected TV, brand protection and the fight against ad fraud are facing an even greater challenge. Unfortunately, less than 40% of video impressions across desktop and mobile are eligible for blocking, according to DV data. This is because video blocking requires a technology standard called VPAID, which is not widely available. As a result, advertisers are not always able to leverage blocking on video to protect their brand. This is an even bigger problem in CTV, where VPAID has zero coverage.
To move past this inconvenience, DoubleVerify provides triple checks: pre-bid, avoiding conflictive environments and redirecting the campaign towards more suitable ones; post-bid, blocking the ad's playback in inappropriate locations; and the filtering of bid applications. DV Video Filtering works in conjunction with existing controls such as blocking and pre-bid avoidance. The solution enables advertisers to further reduce waste and minimize video infractions across devices including CTV, mobile and desktop. Video Filtering can be used for campaigns that are executed directly via a publisher or through a DSP; it gets activated once an ad request is received and after bidding takes place.
DoubleVerify also allows for a better tracking of viewability rates in CTV marketing. While there is currently no agreed-upon standard for CTV viewability, DV is able to provide the closest proxy for viewability measurement on CTV. DoubleVerify checks the playback time, measuring quartile completion; it ascertains whether the video has been shown in full on the user's screen; and it verifies that the CTV device was on when the ad was served. DV's protection is also at the forefront of ad fraud detection in CTV: it stands out because of its ability to identify invalid traffic, spoofing cases, or fraudulent apps created to manipulate the advertising market. And finally, DV offers in-depth brand safety protection across OTT and CTV inventory, allowing brand advertisers to protect their campaigns across channels and formats – giving them clarity and confidence in their digital investment.
Do you want to implement a safe audiovisual strategy for audio, video and CTV? Contact with Labelium Play: we can offer you a personalized plan, tailored to your needs and with every brand safety guarantee.