Knowing the users' search intention is fundamental to define the buyer persona of any product. In fact, Salesforce uses this criteria to establish the four types of consumers, according to its Search Intent, which must be taken into account when putting together a strategy.
However, as with all the other phases of the purchasing process, technology is changing the established theories. Smart speakers are a clear example of this, next we explain why.
The rise of voice assistants
They became popular in 2015 and it is expected that by 2020 50% of the Internet searches will be made by voice. This is just one of the many statistics collected by Quoracreative which only underlines the obvious: voice searches are the future.
This technology, which has been integrated into smartphones for years, is fully adapted to home speakers, incorporating a microphone through which the user can communicate with the voice assistant, and control the rest of the connected devices via the Internet. Google queries (or any other search engine) is one of its many possibilities.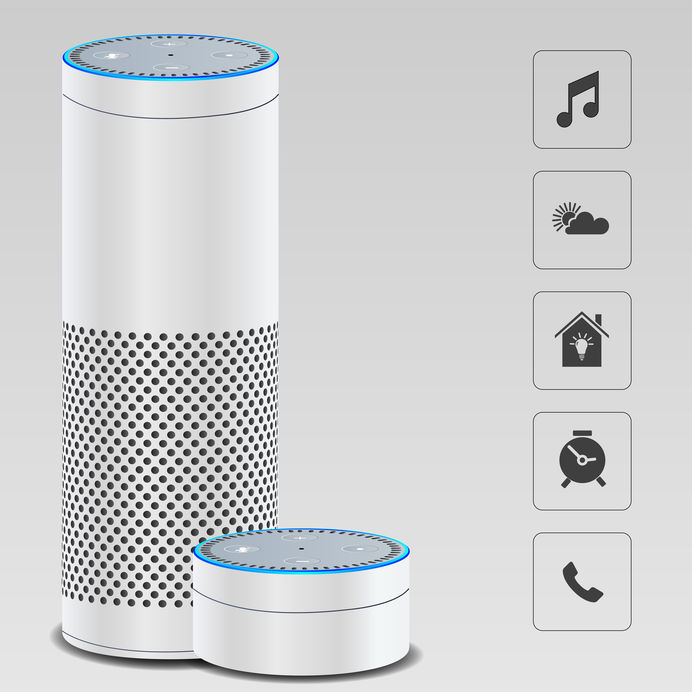 Dialog Management and language processing
The communication between the user and assistant through voice can be analyzed at four levels:
Invocation: the skill or word that leads to a search oriented to a specific function.
Intent: action that the user wants to perform.
Utterance: the user's way of expressing themselves.
Slot: additional information that can be drawn from the search.
Every question to the voice assistant must have an invocation name to elicit a response, but it is not necessary to include any of the other parts. However, a more complex dialogue, with a combination of intents, utterances and slots, can result in more precise skills.
An example of this is the BERT technology, with which Google wanted to complement its RankBrain contextual search system and which is at the forefront of artificial intelligence. This is a neural network for the processing of human beings' natural language, through which Google will be able to answer users' questions taking into account factors such as feelings, semantics, predictions or intentionality.
"Analyzing correctly the way a person speaks makes it possible to achieve certain nuances that are hidden in written language. This information is very useful when it comes to guiding the promotion or advertising of a product".  

Matías Pérez Candal, Strategy Director at Labelium Spain
Smart speakers and the buyer's journey
The purchase cycle consists of several phases that the user must go through when purchasing a product:
Discovery: the user becomes aware that they have a need (desire, interest, etc.) and must cover it.
Consideration: the user gets informed and searches for options (products or services) to fulfil that need.
Decision: the user compares the options and decides which one to choose.
The rapid proliferation of smart speakers is creating a new concept: the smart home. With all the appliances in the house connected to the Internet, without realizing it, users are continuously emitting information about their tastes, habits and lifestyle. Information that allows companies to establish new buyers personas to whom they can target their advertising during the discovery phase.
"Smart speakers are a major change during the awareness phase. Now the user can receive advertisements for things that s/he had never searched for on Google but had previously given enough information from home, without realizing it". 

Matías Pérez Candal, Strategy Director at Labelium Spain
Smart speakers: major devices
Amazon Echo
The all-powerful marketplace option, with Alexa as a voice assistant, leads today's market with a 36.6% share. The success of this device lies in its good price-quality ratio and its compatibility with a wide range of household appliances.
Alibaba
With a voice assistant very similar to Alexa's, AliGenie, the Chinese company holds second place with a 13.6% market share. Its Tmall Genie, very similar to Amazon Echo, allows the purchase of electronic products from the Chinese firm.
Baidu
The smart speakers of the Chinese brand Baidu hold 13.1% of the market share which means a 290% growth compared to last year. They operate only in the Chinese market and their features are similar to the rest.
Google Home
Since 2018 it has fallen from second to fourth place, with a current market share of 12.3%. This decrease is inversely proportional to its performance and presents exceptional functionalities with devices of the same brand. Also, it is compatible with Chromecast.
Xiaomi
In the process of introducing its smart speakers in Spain, Xiaomi has a 12% market share and recently announced its latest model: Xiaomi Xiaoai Speaker HD.
According to Canalys' data, in 2019 the market for smart speakers has grown by 44% and has already sold more than 28 million devices worldwide. Amazon alone has shipped more than 10 million of Echo devices globally, which shows that the popularity of this type of device is continuously increasing.