Only a few years ago selling in China seemed like a dream out of reach for most western brands. However, today the situation has changed and the Chinese market is the new land of opportunity for foreign companies. It is the perfect moment to devise a solid internationalisation plan, with a digital marketing strategy at hand, created in Chinese, so that when you arrive in the country, everything is ready to compete with national firms on equal terms.
China, an Online Market that Is Constantly Growing
With sustained consumer growth both in cities and in rural areas, China is a Promised Land for businesses in the retail sector. According to data collected by the National Bureau of Statistics of China in October, the retail sales in consumer goods went up by 7.2% year-on-year. This behaviour is consistent with the transaction increase that has been characteristic over the last two years, as is shown in the following chart: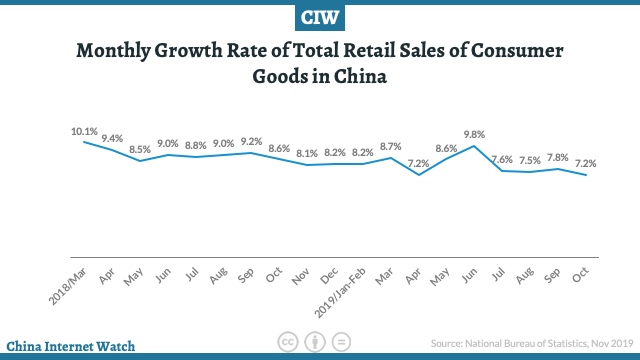 If we focus exclusively on retail online sales, the growth increases sharply. Between January and October in 2019, this sector raised more than 8.2 billion yuan, that is 16.4% more than the same period in 2018.
What Opportunities Does China Offer to Western Companies?
Once businesses have a general idea of what the Chinese market is like, they should pay attention to its peculiarities. In which specific niches can foreign companies find sales opportunities? The first thing to consider would be that demand is extremely polarised. Chinese consumers tend to:
Buy cheaper options after a search for good deals.
Choose premium products of an aspirational nature, with great quality and a high price.
When it comes to the first segment, most western brands have already lost the battle against national companies. The second point is the best path a foreign company can take towards success in China.
35% of the Chinese Population Will Belong to the Upper-middle Class by 2030
The luxury sector will experience a golden age in China in the coming years if companies play their cards right when marketing their products. The Chinese Consumer in 2030 report by The Economist Intelligence Unit predicts that, by 2030, 35% of the Chinese population will belong to the Upper-middle class. It is an astonishing figure if we consider that only 10% of Chinese citizens are currently in that category.
This study warns companies not to dismiss cities from the third and fourth levels in their business strategies. According to The Economist, ten years from now, towns that do not seem too promising, such as Foshan, Wenzhou or Changsha, will become cities able to compete with Beijing in their number of inhabitants with high purchasing power and willingness to spend money on luxury items.
Singularities of Chinese Online Consumer Behaviour
For any good digital marketing strategy to work in China, it must be built on a deep understanding of Chinese consumers' Internet behaviour. The rules are by no means similar to those in the western world, and there are three basic ideas every company should bear in mind:
The Phone Is King
The mobile phone is their preferred device to browse the internet, and consequently, to shop online. According to the China Internet Network Information Center (CNNIC), the Internet reached 59.6% of the Chinese population in 2018, that is, 829 million people. Out of those, 817 million connected to the net through their smartphones.
There Isn't Much Google and Facebook Can Do
In China, access to Google and Facebook is forbidden by the Government, and the actors that dominate the scene are other platforms, such as the app's app WeChat, the social network Weibo, the marketplace JD or portals like Tmall and Taobao, which belong to Alibaba.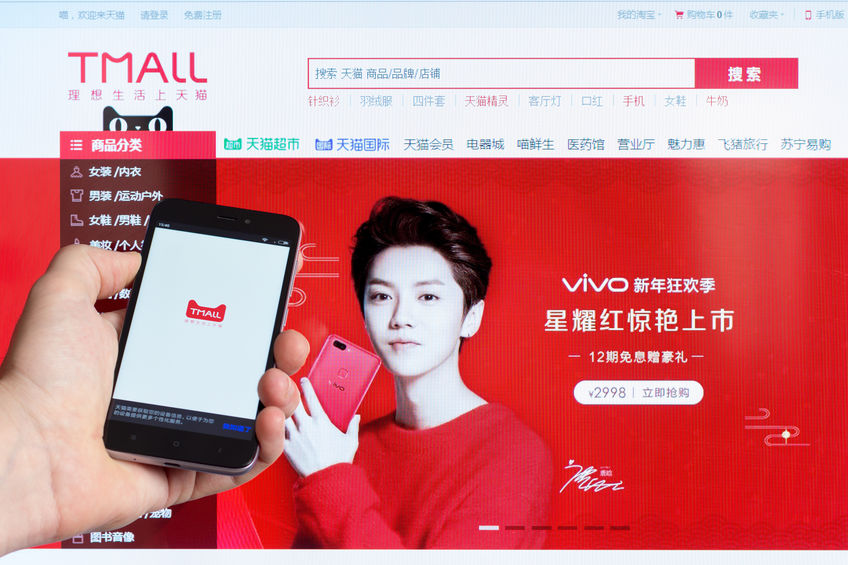 The Customer Journey Is Very Different from Western User Experience
While the western customer journey is very much defined by individual searches, visits to the brand's websites and the impact of PPC advertising, in China this route has a very strong social tendency. Users browse through social media networks expecting to discover new products, do research on the item, get in touch with the merchant and conclude the purchase by paying for their new acquisition without leaving the app where they began the process.
A brand that wishes to put into effect a digital marketing strategy in China cannot simply mirror the same actions that worked in Europe or America. Selling in China requires flexibility and a capacity to adapt to a completely different online ecosystem.

Tony Cheung, Managing Director at Labelium China

Digital Marketing Strategies in China: Where to Begin?
When it comes to specific digital marketing tactics used in China, there are three that appear to be more effective:
1. Influencers' Marketing
Since social media networks have the leading role in the customer journey of the Chinese consumer, this means influencers have gained great prominence.
To reach a Chinese customer, brands should not speak directly about themselves, instead, they must lean on influencers and opinion makers to do it for them in social media. Only thus will they earn the trust of their first clients.

Tony Cheung, Managing Director at Labelium China

2. Content Marketing
It should be done with pieces created for the Chinese market, not with translations or adaptations of campaigns developed for the west. The ideal is a combination of entertainment and storytelling to turn content viral.
3. Videos
Short videos, between six and fifteen seconds, generate high rates of engagement, which bodes well for the future of video advertising formats and streaming broadcasts, these will improve thanks to the arrival of 5G technology.
In any case, the best option to venture into the Chinese market is to do it alongside a partner who specialises in digital marketing strategies in China and has international reach, such as the Labelium Group.