The implementation of social distancing measures and quarantine due to the coronavirus pandemic is transforming the digital habits of people around the whole world. One of the most serious consequences of the lockdown in countries like China, Italy, Spain, France or the United States has been the forced increase of streaming services usage among their population, that is, the consumption of online audiovisual content.
Data such as this collected by Statista in Spain at the end of March 2020 shows that the use of VoD platforms (Video on Demand) like Netflix, Amazon Prime Video and HBO grew up to a 60% in the morning slot due to the estado de alarma (state of alarm) declared in the country.
This means that the sporting field and the rules of the game have changed for the brands. With streaming on the rise, they have new paths to reach their target audience. In the following paragraphs, we will see what they are and how to navigate them.
How has the lockdown affected consumers' behaviour towards streaming?
The change in streaming services' consumption patterns during the COVID-19 pandemic divides in two distinct trends:
1. Netflix, HBO and Disney +, leading the scoreboard in the platform race
In March, the interest in subscribing to platforms with access to a broad catalogue of films and series online has increased significantly. According to what SEMrush has detected, Internet searches related to streaming services increased up to an average 12.7% in the United States compared to February. 
The advances in queries about HBO (24%), Netflix (18%) and Disney+ (43.5%) stand out. The latter, which has been available in the United States since November 2019, began working in western Europe this past 24th March, during the thick of the lockdown.
In the United States, the most downloaded streaming service has been Disney+ (35%), closely followed by Netflix (27%), according to consumer insights related to COVID-19 by UBS. However, according to Statista, the most downloaded apps during the lockdown in the U.S. have been those that enable users to organise virtual meetings and video calls, such as Houseparty or Hangouts Meet.
2. The demand for streaming audio plummets
More time spent at home leads to more hours being a couch potato, watching TV; but it does not necessarily mean listening to our favourite songs on repeat. Playing music on streaming platforms has gone down in those countries where self-isolation measures have been declared. Take, for instance, this research made by Quartz shows that, in Italy, Spotify's top 200 most popular songs suffered a sharp decrease in the number of times they were played, down to four million (23%). Due to these restrictions in movement among the general public, the figure went down from 18.3 to 14.4 million.
In the United States the situation is very similar. An analysis carried out by Music Business Worldwide reveals that the weekly number of streams in Spotify's top 200 dropped in almost a thousand million from the 6th to the 13th of March. The following week, the decrease continued, losing 3.1% more, down to 5,726 million streams; the lowest figure ever registered in the United States in this streaming music platform since last Christmas.
What could explain this decrease in the consumption of streaming audio? The most likely reason is that we enjoy listening to music when we are away from home, during our commute -whether we are driving or using public transport- or when we are in bars, clubs and gyms.


Lucía González, Audio, Video & Connected TV Managing Director at Labelium Group


Programmatic advertising in Advanced TV during the COVID-19 crisis
What we need to understand is that, to self-isolated users, being connected to their usual brands is a way to maintain some semblance of normalcy and not lose sight of that life that will be waiting for them when the pandemic blows over. Conversely, commercial communication should not necessarily stick to conventional codes, but adapt to the new reality that has become the recipients' everyday life.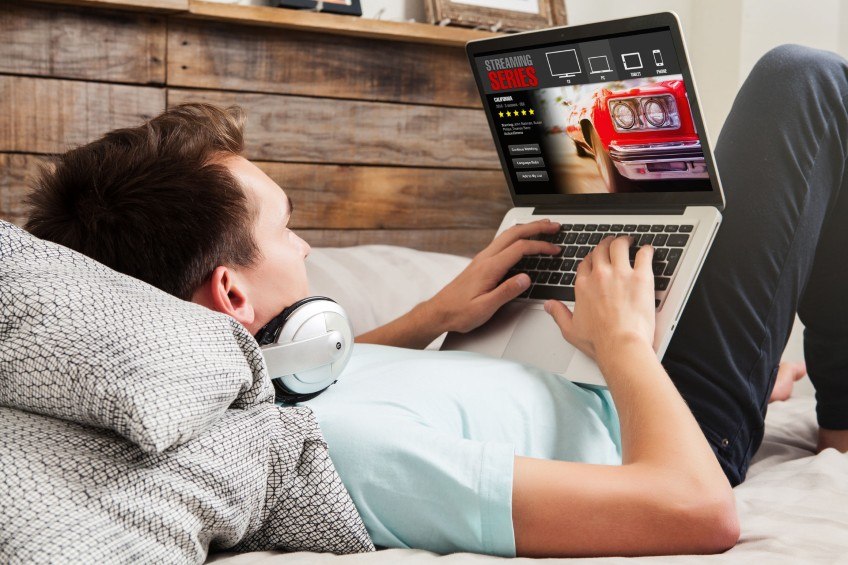 In this context, brands have been presented with a golden opportunity to make the most of Advanced TV's advertising potential.
During this time of coronavirus, it is essential that the messages sent by programmatic advertising are attuned to the target audience's mood. Now it is elementary to reiterate the importance of looking after one's health, covering basic needs and giving maximum guarantees regarding the buying experience. And, when thinking about the future, we should convey hope, trust and the certainty that we will be able to make up for lost time and compensate these troubled times with the pleasure of small things.


Lucía González, Audio, Video & Connected TV Managing Director at Labelium Group
Streaming broadcasts: an opportunity to connect with the target
As well as placing their advertising messages, the brands can also come up with attractive content for their target audience and broadcast it via streaming. We are talking about Social Media Live Streaming, very used by journalists and in the music industry. Specifically, these platforms, such as YouTube Live, Facebook Live or Instagram Live Stories, allow real-time broadcasts without requiring a large technical array.
Chats, concerts, theatre plays or webinars are only some of our suggestions to make the most of this channel. However, in times of coronavirus Q&A sessions with experts in the field take the spotlight, since they can answer the everyday questions citizens in self-isolation may have. Interviews are also popular, such as this one where Mark Zuckerber, founder and CEO of Facebook, talked to Anthony S. Fauci, director of the U.S.' National Institute of Allergy and Infectious Diseases (NIAID):

In conclusion, never before has streaming received so much attention from so many and so varied population groups. This is the moment to make the most of these favourable winds to reinforce branding and strengthen businesses' digital presence.